Bondtech Corp.
1278 Highway 461
Somerset, KY 42503
Gold Level Dealer
Surplus Record Dealer Since 1984
About
Bondtech Corporation doesnt just sell machinery, we custom manufacture to specification, rebuild existing machinery, and service all brands of equipment, even our competitors.

Our experience in various industries allows for a higher knowledge of customers technical requirements. The reliability and dependability which is a must in the aerospace industry is a must in all of Bondtechs autoclaves. Bondtech Corporation is a sole supplier of new and refurbished autoclaves and pressure vessels. The single source capability represents direct control starting with coordinated mechanical and metallurgical design through the final test of the complete system. Bondtech uses the most advanced technology to bring the autoclave up to todays standards. When the autoclave is completed, the unit will not only look like new, but it will also perform and last like a new unit. When refurbishing a unit, we will take into consideration our customers unique requirements as well as budget considerations.
Products & Services
Chemical, Petroleum & Gas Processing Equipment
Associations & Affiliations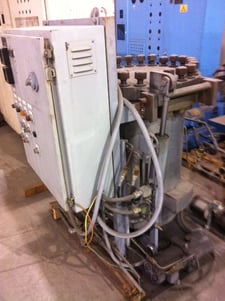 BTT : 1 autoclave bin, 1.1.0 BONDTECH AUTOCLAVE/STERILIZER SYSTEM, High pressure, Computer controlled Bondtech autoclave system to treat contact lenses., 1.1.1 AUTOCLAVE DIMENSIONS AND
...more