History
In the early 1920s, after World War I, Thomas P. Scanlan saw a demand for a service that would connect owners of industrial machines to would-be buyers. He went door to door down "manufacturers row" in Chicago (Randolph Street in the West Loop) to find companies that had machinery for sale. In 1924, the first edition of the Surplus Record catalog was published, which had 5,000 machinery and equipment listings. With the means to market machines across the country, more and more companies began turning to Surplus Record for help selling their surplus equipment. Today, Surplus Record has well over 100,000 listings across 2,000+ categories within the industrial world and continues to expand into new categories each year.
1924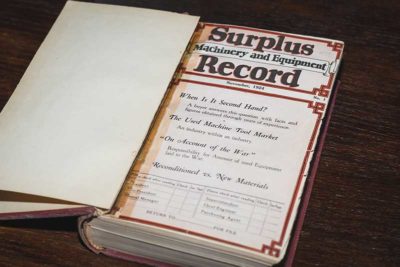 The first issue of the Surplus Record (and first used equipment publication in America) was published and circulated to 30,000 buyers of used machinery and equipment. It was 32 pages long and contained mostly display ads for companies selling used machinery in the construction, mining, coal, and railroad industries.
1941
Thomas P. Scanlan — along with Chicago machinery dealers like Harold Blumberg, Sam Danits, Louis Emerman, Joe Donberg, and Max Segal — spearheaded the startup of the Midwest Association of Used Machinery Dealers, now known as the Machinery Dealers National Association (MDNA). The association would go on to be instrumental in helping grow the used machinery industry.
1945
With World War II coming to an end, over $100 billion of wartime machinery needed re-purposing for civilian manufacturing. Surplus Record helped lobby for these machines to be sold by experienced dealers in the used machinery world to get them up and running as quickly as possible in new manufacturing plants — an effort that proved successful in December 1945 when the office of Reconstruction Finance Corporation announced a 12.5% sales commission to any used machinery salesman who sells a surplus war machine. Thomas P. Scanlan also testified to congress about the importance of a thriving used machinery market, formerly known as the "junkyard." Industry.
1953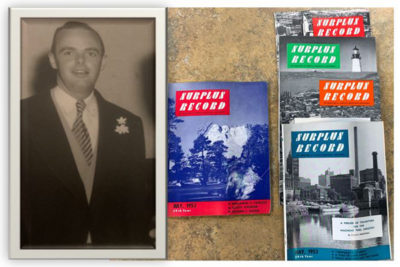 Thomas Matthew Scanlan began working at Surplus Record in sales traveling out of Detroit and meeting with machinery dealers across the nation to bring in a wide variety of new categories. He also led the charge to expand Surplus Record into Canada.
1955
The Surplus Record book transformed from mostly display ads on individual pages (with each dealer taking out a full or half-page to advertise their machines) to a directory of all the machines available for sale across every dealer sorted by category. This allowed buyers to look up "Presses," for example, and see every type for sale across every dealer on one page instead of having to flip through multiple pages of ads. This is the format followed today.
1974
50 years in, the Surplus Record had reached a monthly circulation of 85,000 subscribers with featured listings from 500 different advertisers. With the rise of oil in the 70s, the company began diversifying into new categories such as chemical, oil, and gas processing.
1982
The third-generation Thomas Cleary Scanlan started working at Surplus Record and would eventually go on to expand the business into the internet age.
1986
Surplus Record began posting machinery listings online. Known as Surplus Record Information Services (SRIS), it connected via a 2400 baud modem. Surplus Record would send out thousands of diskettes with a PC software application, which would automatically dial the Surplus Record database in Chicago and provide a live feed of current machinery listings through a MS-DOS interface.
1993
Surplus Record helped start "Utillaje," a used machinery directory business focused on Mexico and South America that still remains in circulation today.
1995
When SurplusRecord.com launched, it displayed all the listings from the book to the website, as well as a bulletin board for dealers to find and sell hard-to-find machinery.
1999
SR Auction Inc. formed as one of the first websites on the internet for industrial auctions. The popularity and demand for this service skyrocketed during the early 2000s "internet boom," which led to the acquisition of Surplus Record in 2001 by the company Freemarkets, a leader in supply chain management and industrial asset recovery.
2010
As circulation grew to 140,000+ subscribers, Surplus Record's vast database was a key factor in helping auctioneers reach specific companies and individuals. Able to drill down by SIC Code, employee count, location, and machinery interests, Surplus Record became a strong partner for every auctioneer in the industrial world looking to bring more bidders to their auctions.
2016
On the company's 92nd anniversary, it once again became a private, family-owned business with the third-generation Thomas Cleary Scanlan at the helm. Under Thomas from 1982 to 2016, Surplus Record had increased catalogue circulation by 40% and the number of listings had nearly tripled.
2021
For the first time since the early 2000s, SurplusRecord.com underwent a massive website redesign project focused on modernizing the site and helping users find the machines they need quicker.
2023
In February 2023, our printed catalogue was re-designed to bring it up to the modern day era of print and the worlds #1 source of used and surplus industrial equipment. The small black and white only digest was phased out and a new larger size, full color, high resolution catalogue was introduced to showcase equipment better and allow for a better browsing experience.