100,315 Machinery & Electrical Equipment Listings as of 08/14/2022
Advertise your inventory and connect with end users
Wanted or For Sale
Let our network of dealers find the machine you need or turn your idle assets into cash.
Featured Auctions & Liquidations & Machinery Deals!
Link Auctions Marketplace
Never Used Power Generation Support Equipment: Air Compressors, Chemical Processing Equipment, Diesel Generators, Switchgears, and much more!!
Listings Just Added
Machinery & Equipment
Discount Forklifts
Denver, CO
Universal Tube & Rollform
Perrysburg, OH
Revelation Machinery
Chicago, IL
Electrical & Power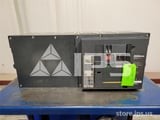 National Switchgear - Circuit Breakers etc.
Lewisville, TX
T & S Tool & Supply Co Inc
Holland, OH
Foley Equipment
Wichita, KS
Industry News
The Oxford English Dictionary defines survival, "as the state of continuing to live or exist, often despite ...
Read more