97,932 Machinery & Electrical Equipment Listings as of 06/29/2022
Advertise your inventory and connect with end users
Wanted or For Sale
Let our network of dealers find the machine you need or turn your idle assets into cash.
Featured Auctions & Liquidations & Machinery Deals!
Webster & Bennett Vertical Turret Lathe – DEAL!
Enfield, CT
GREAT VTL DEAL – CONTACT US NOW!
Diameter of 4-Jaw Chuck, 54″
Maximum swing, 60″
Maximum distance under cross rail, 60″ (12″ Extra Height) Maximum distance under turret face, 71″
Turret head vertical travel, 38″
Turret horizontal feed from center, 35″
Power rapid traverse, 520 RPM
12 Table speeds, 4.5 to 100 RPM
12 Feeds, .005 to 250 IPM
State of the Art Appliance Mfg Plant
Memphis, TN
All Items Available Immediately and Subject to Prior Sale: Very Late Model Stamping, CNC Fabricating, Powder Enamel Paint Lines, Powder Paint Lines, Assembly Lines, Robots, Laser Welding, Transfer Press Line, Automated Battery Charge System, Tooling, Much More
Rare Offering – Most Assets Newer Than 2012
Listings Just Added
Machinery & Equipment
RAAR Group USA
Redondo Beach, CA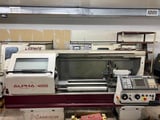 Mohawk Machinery Inc
Cincinnati, OH
Zimmerman-McDonald Machinery Inc
Saint Louis, MO
Electrical & Power
A-Line E D S
Waterloo, IA
Atlanta Truck Equipment Co.
Hoschton, GA
Alan Ross Machinery Corp
Zion, IL
Industry News
Every year hundreds of small business owners in the USA and Canada are retiring or closing up ...
Read more