Unified Technologies
436 Cherrywood Lane
Painesville, OH 44077
Silver Level Dealer
Surplus Record Dealer Since 2014
Contact
About
Unified Technologies provides vacuum and pressure pneumatic conveying systems, minor ingredient automation, dust collection, and dehumidification systems. We offer integrated process controls including an option for batch management software. The automation of minor ingredients provides a high level of repeatability and accuracy. We understand the production processes in the food, chemical, plastics, and other general industries; which means that we are able to develop a pneumatic conveying system for your specific needs.
Products & Services
Blast Cleaning/Peening
Foundry Equipment
Associations & Affiliations
Conveyor Continuous / Spinner Hanger, Blast Cleaning and Shot Peening
2 Results
Seller:
Unified Technologies
2 - 10HP Blast Wheels, Inside dimensions are 54" x 54" x 68" tall (Idea operating size is 30" diameter x 48" tall), Cartridge dust collector with reverse pulse cleaning
...more
Seller:
Unified Technologies
Auitomatic inline roller conveyor pass through blast system, 6 - 15HP blast wheels, 31" x 31" max blast enevlope, 50 feet of input + 50 feet of output roller conveyor, Air wash
...more
Tumble Blast Cleaning and Shot Peening
1 Result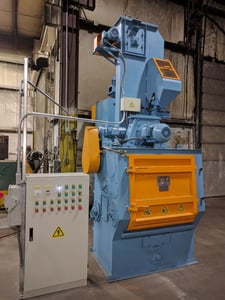 Seller:
Unified Technologies
5 Cubic foot barrel, 25" disc diameter x 35" between the barel heads, 10HP Blast wheel, Cartridge dust collector, Air wash separator, 460V, 3PH, 60HZ.