Plastimach Corp.
1 Rockland Park Ave
Tappan, NY 10983-2617
Platinum Level Dealer
Surplus Record Dealer Since 1983
About
Welcome to Plastimach, the source for quality used thermoforming equipment, sealing and trimming machinery. We are a stocking dealer of previously owned plastic processing and packaging equipment. Since 1975, Plastimach Corp. has consistently delivered quality used plastic process equipment to our customers. Most of our inventory can be inspected at our New York or Chicago warehouses. Our staff has over 75 years of experience in the thermoforming industry, and we look forward to discussing your particular application in order to suggest the equipment that is right for you.
Products & Services
Appraisers, Machinery & Equipment
Auctioneers
Food Processing Equipment
Packaging Equipment
Plant Liquidations
Plastic Equipment
Presses
Associations & Affiliations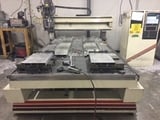 Used Pioneer PFD 100 Die Cutter. 100'' Wide. Model PFD 100. Coated Anvil Roll. The table size is
...more
Manufacturer: Visual. Model: RT34-2. Stock #: 202730. Status: For Sale.
Die Cutting Press Machines
1 Result
34'' wide. dual powered rollers. recently removed from operation.
Sealers and Sealing Systems
3 Results
Manufacturer: Alloyd. Model: 20S 1216 20. Stock #: 20726. Status: For Sale.
Starview FAB8/PH-1418, 8 STATION ROTARY SEALER. 16" X 18" SEALING AREA. 8 station machine,. equipment feeds blisters,blister cards
...more
ZED INDUSTRIES MODEL 15-CRS-6 ROTARY BLISTER SEALER.
Vacuum Formers and Thermoformers
5 Results
Used Lyle Model 48″x72″ single station thermoformer.
Used Lyle 40 x 40 Thermoformer. Model 140 FH. New in 1995. Max Mold 40″x40″. Top Oven Quartz
...more
1 used 1989 Plastivac Model 406x. 48" x 72" maximum forming area. top heat ceramic heat element oven.
...more
Sencorp 2500 thermoformer. 31" x 33" forming area. Top and bottom radiant oven. Servo index. Microprocessor controls. Stacker. new 2000.