As with most inventions, the process of welding was developed by a multitude of different minds who developed and improved upon the process over several generations. The foundations of welding began in the year 1800 when England born Humphry Davy, created the first electrical arc between two pieces of steel by using a battery. Later French electrical engineer Auguste de Méritens, expanded upon Davy's discovery and joined metal for the first time using this electrical arc. Méritens Russian student Nikolai Benardos then patented the idea of using metal electrodes for welding. From here, welding progressed rapidly in the direction of what we see today; welding only continues to improve and change as modern welding techniques become more advanced.
This article plays the part of a guide for those interested in welding and will help you select the best welding machine for your job. We shall cover how welding works, some tips and tricks, and what to look for when searching for the best new or used welders to buy.
Most Popular Types of Welders:
The most popular forms of welding machines found internationally include: Arc Welders, TIG Welders, MIG Welders, and the Spot Welder varieties: Rocker Arm and Press Type.
These types of welders are all highly utilized within the metalworking industry and vary quite differently with their capabilities and uses. Understanding which machine is more practical for different jobs will in turn, help you to decide which is the best new/used welder to buy.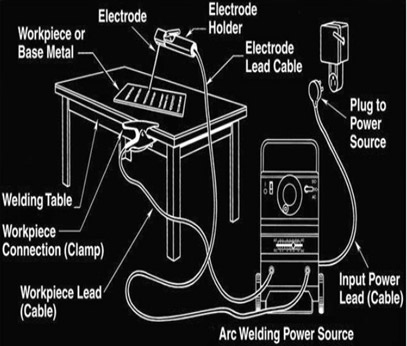 Arc Welders
Also known as Shielded Metal Arc Welder (SMAW), Arc Welding machines work by channeling an AC or DC electrical current through an arc welding machine and into a stick electrode which produces high levels of heat. This melts both the steel joint and the electrode's tip, allowing the three materials to join and create a weld.
The greatest benefit of using an arc welding machine include their affordable price and their ability to weld outdoors. After investigating the different prices of welders, you will find that arc welders are the cheapest option available, while still maintaining a high level of performance. At Surplus Record, used arc welding machines start at prices as low as $395. However, what really sets the arc welding machine apart from other welders is that it can be used outdoors.
Arc welders do not require shielding gas to protect its weld pool from contaminants (like other weld processes do), instead it uses a flux-covered electrode to protect the weld pool. This is hugely beneficial to the operator's range of weldable locations and means that arc machines can be used in windy outdoor locations without risking shielding gases blowing away and destroying welds.
It's also worth noting that arc welding machines only use one consumable which is these electrodes; meaning that ongoing consumable replacement costs are also very low. Have a look through our available range of used arc welders for sale.
TIG Welders
TIG Welders are the dominant force of the sheet metal and stainless-steel industry as they are highly adaptable, precise and produce beautiful welds. If one is looking to weld light(0.5mm) to medium(10mm) sized materials, then TIG welders are always the best option. They can also weld thicker material when required.
TIG Machines prove to be excellent to use on all metal types such as stainless steel, mild steel and aluminum and also allow the operator to have great control over the welding process and weld aesthetics. They won't solve all your welding problems as they are a difficult machine to learn to operate, but with time and patience, you can expect to lay welds that look like art. Have a look through our available range of used TIG Welders for sale here: Have a look through our available range of used TIG welders.
MIG Welders
Known for their speed while maintaining structurally strong and good-looking welds, MIG Welders are another excellent welder option. They are ideal for operators needing repetitive production work, structural projects or general engineering work on the whole. The basic MIG welding machine can be used on a range of steels such mild steel, stainless and aluminum, although they are fairly limited when it comes to sheet metal welding.
For welder operators who are just starting out, MIG Welders are deemed to be an excellent place to begin and build a welding foundation from. The MIG welding process is straightforward and out of most of the industrial welding machines for sale, the prices are relatively low and range from about $1,000 upwards for the average used MIG welder machine. Check out our available range of used MIG Welders for sale.
Spot Welders
Two of the most common spot welder varieties available are the Rocker Arm version and the Press Type. Spot welding is different from the other previously mentioned welding processes and is one of the oldest yet more limited options. A spot welder literally functions to weld in spots. This works when a high degree of heat is electrically applied to two electrodes and then pressed between the subject steel wishing to be joined, fusing them together.
Rocker Arm spot welders consist of an extension arm in which the electrode force and welding current are transmitted, this is controlled by a manual or electric foot pedal. Press Type spot welders on the other hand are controlled by a hydraulic foot pedal with a weld tip that travels in a predetermined straight line.
Both machines are highly useful throughout the metal industry and can be found new and used. These welders vary in power range, metal working capabilities and sizes. A difference in their uses however is that the Press Type machine can be used for projection welding, while Rocker Arm welders are definitely not recommended for this application.
Uses and Applications
Welding machines are heavily used throughout the metal industry for the permanent joining of different types of metals. These metals can vary in size, shape and thickness with each welding process characteristically being more specialized in certain areas than others.
For example, in a light fabrication or panel beating workshop one would more likely expect to see TIG welding machines and spot welders. This is because they are more compatible for this work than say MIG or Arc welders. Similarly, you would not expect to see a MIG or TIG machine in the hands of a worker repairing a farm fence, but rather you would almost certainly find an Arc welder (or perhaps a Gasless MIG). Welding machines are highly important for construction of components in the following industries: shipbuilding, food processing, aeronautical engineering, agriculture, automotive and engines, medical equipment, structural engineering, arts, horticulture and many more.
Some welding machines are more practical and effective than others at isolated tasks. These should be taken into consideration when searching for industrial or fabrication welding machines for sale.
What to Look for When Buying a Welder?
You should now understand the basic differences between the various types of industrial welding machines for sale, but you may still pose the question: What exactly do I need to look out for when buying a welding machine? New and used welders will appear with a variety of different components and functional abilities.
To help with your search, we'll list some varieties and options to be aware of when looking for new and used welders.
Manufacture Brands
The manufacture of the welding machine you are looking at is important. On the market today there are many industrial and fabrication welding machines for sale that are produced by low quality manufacturers. Purchasing a low-quality welding machine is okay for working at home on the odd occasion and without a doubt most of these machines do weld to acceptable standards. However, if you are looking to produce higher quality welds, then by buying a machine produced by a reliable brand such as Miller and Lincoln (for hand held welders) or Taylor-Winfield (for spot welders), will surely have you getting your money's worth.
Damage
Welding machines receive heavy usage; therefore, they are built to withstand a hard life. It is normal when inspecting used welders for sale to find a lot of external scratches and wear and tear. However, there are some aspects to a welder that you should look for to see if it's in operationally good condition or not.
All cables on a used and working machine should be free of deep cuts or exposed wiring. Exposed wiring increases the operator's chances of electric shock. The front of the welder where the control dials can be found should all be intact and readable; if you can't read what amperage you are setting your machine to, it's not a huge problem, you will just need to get a practical feel for your machine. Internally the welder should be clean and free of loose wiring and cables.
It is advisable to have someone weld with the machine so you can watch the inside to inspect for faults or issues when it's in action. Finally, try welding with the machine yourself (assuming you know what a good, operational machine should run like, if not ask for help), and you will very quickly realize the welder is a bad buy when it doesn't weld properly.
Welding Settings
The front panel of a welder is the operator's central hub and controls the welder's settings. Here you can control the available amperage, wire speed, pulse settings, up/down slope as well as change settings for different materials, gases and welding types. Each welding machine will have different options for example: a very basic welder will likely only have amperage settings and as you look at more advanced welding machines you will find that the options increase.
More advanced welders could have a variety of options such as the pulse setting, which allows you to preset two different amperages and when welding, the machine will automatically switch between the two. This would make welding thinner materials much easier and also produce more uniformed welds. Select a welder with settings that will be functional and practical to what you plan to use it for.
Useful Accessories
Welders have such a huge variety of accessories available, the most obvious and necessary being the welding helmet and leather gloves, but what else might you need to improve your welding experience?
Welding Caps – A fireproof welding cap will protect your hair and head from welding sparks, they are even available in a variety of cool designs.
Positioners – A little more expensive than a cap, positioners are highly useful for securely holding and rotating your workpiece as you weld around circular joints. Check out our options available here.
TIG Tips – Specifically for TIG welding, one can find a huge variety of TIG tips available: long, short, wide, or narrow which allows for a different range of gas distribution and weldable locations.
Bench and Stool – A solid steel bench and stool are must for the serious welder. They allow for comfortable working improves precision and your own practicality.
Chipping hammer or Wire brush – These two tools are great for post welding clean up. Chipping hammers are a must have tool for arc-weld slag removal and a wire brush will put a beautiful shine on all types of welds.
Surplus Record: Tips and Tricks
When questioning where to buy welding machines Surplus Record is the number one online option available. By searching on our platform, you will find a massive variety of welding machines available. Below we have attached some of our best tips and tricks to make the search to buy a welder a little bit easier.
Make use of our Location Settings: At the top of the page when on the list for a welding machine category, enter your desired location and you'll be taken directly to what we have available in your area.
Looking for an Auction: On the listing page, select the blue checkbox on your right which says "Auction" to be taken to our available welders for sale via auction.
On a Budget: Select the toggle "Sort by Relevance" and then click "Price low to high" to view our cheapest to most expensive used welders for sale.
Don't forget the Search Bar: Already know what you are looking for? Utilize our search tab at the top of your page to find specific listings out of hundreds available.
Quick Access: Welding Machine Dealers
At Surplus Record, we understand that the process of searching for new and used welders can be quite daunting. Our advice is to take your time, do the research and use this special welding machine buying guide. The process of finding the best industrial or fabrication welding machine for sale should be straightforward. Almost easy!
Our top manufactures available on Surplus Record for:
Need More Help or Information on Welding Machines?
Still can't find what you're looking for or need more advice from a welding professional dealer? Head on over to the "Wanteds" section of our website and select "Buy" at the top and "General Equipment & Machine Tools" for the industry. Fill out the form and a dealer that specializes in welding machinery will get back to you asap. It's free to do, and dealers are happy to help out!
Have a Welding Machine to sell? Sell Your Equipment With Us.