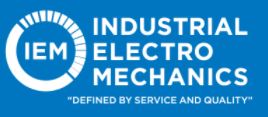 Industrial Electro-Mechanics
1624 Dean Forest Rd
Garden City, GA 31408-9558
Platinum Level Dealer
Surplus Record Dealer Since 2008
About
Industrial Electro Mechanics is defined by service and quality. Locally owned and operated in Savannah, IEM has been a leading provider of motor repair, rewinding, and machining since 1995.

To better serve our customers with the highest quality products, we offer new product sales for motors, gearboxes, pumps, power apparatuses and drives. We realize that at times it is more economical to replace rather than repair a piece of equipment, so we maintain a large stock of a variety of products to keep your business running.

At IEM, we believe that your business is our business and we understand the need for reliably functioning equipment to keep your business on track. Our experienced technicians rely on advanced technology and vast technical knowledge to provide the highest quality service available whether in our shop or in-the-field.
Products & Services
Drives AC & DC
Gear Reducers
Motor Controls, Starters & MCC's
Motors, A.C.
Motors, D.C.
Associations & Affiliations
60 Hz Three Phase Electric Brake Motors
1 Result
Seller:
Industrial Electro-Mechanics
Location:
Garden City, GA
DC Motors Electrical, 230-250 Volts
1 Result
Seller:
Industrial Electro-Mechanics
Location:
Garden City, GA
DC Motors Electrical, 475-900 Volts
1 Result
Seller:
Industrial Electro-Mechanics
Location:
Garden City, GA
Slip Ring Crane and Hoist Motors
1 Result
Seller:
Industrial Electro-Mechanics
Location:
Garden City, GA
Squirrel Cage AC Electric Motor
5 Results
Seller:
Industrial Electro-Mechanics
Location:
Garden City, GA
Seller:
Industrial Electro-Mechanics
Location:
Garden City, GA
Seller:
Industrial Electro-Mechanics
Location:
Garden City, GA
Seller:
Industrial Electro-Mechanics
Location:
Garden City, GA
Seller:
Industrial Electro-Mechanics
Location:
Garden City, GA
Vertical Pump Motors
3 Results
Seller:
Industrial Electro-Mechanics
Location:
Garden City, GA
Seller:
Industrial Electro-Mechanics
Location:
Garden City, GA
Seller:
Industrial Electro-Mechanics
Location:
Garden City, GA