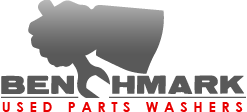 Benchmark Machine Tools
PO BOX 351
Miami, OK 74355
Silver Level Dealer
Surplus Record Dealer Since 2009
About
We sell you what you need. Specializing in reconditioned, used and new parts washers, you can count on Benchmark to provide solutions for your cleaning requirements.

The foundation of Benchmark is providing customers with quality used parts washers.

As founder, as well as COO, Matt Reed, has been buying and selling aqueous parts washers for over 16 years. Over the years he has learned a great deal about the manufacturers, design, engineering, styles, quality, and value of the washers available on the market.

The core value of our business is to provide customers with an affordable solution for their washer needs. We believe in Win-Win transactions and treating every customer as our neighbor.

We are thorough in our purchasing process. We inspect the integrity of the cabinets and avoid units that have material rust, or deterioration. We provide pictures and/or video if you wish. We describe all units in their current condition to ensure that you fully understand the condition and specifications of each unit.

Generally we prefer stainless steel units as they are a smart investment for the discerning buyer. The stainless structure endures and sustains in the harshest environments. A stainless washer is an asset for the owner that, if well maintained, will maintain an attractive residual value and can be liquidated easily. We are a resource for such a resale should the time come.

Products & Services
CNC Machinery
Compressors Air & Gas
Foundry Equipment
Furnaces & Ovens
Lathes
Machining Centers, CNC
Associations & Affiliations

Automated Batch Washers
1 Result
Seller:
Benchmark Machine Tools
Carbide, Friction and Cold Saws
2 Results
Seller:
Benchmark Machine Tools
Seller:
Benchmark Machine Tools
Immersion Parts Washers
2 Results
Seller:
Benchmark Machine Tools
RAMCO Multi-Tank System MKQ16WRRD with Ultrasonics From End User, Model MKQ16WRRD, Serial No. JB1436-04, New 2004, 4 Stages, Wash, Rinse, Rinse, Dry, Tank 1. Electric Heat, and agitation
...more
Seller:
Benchmark Machine Tools
Rotary Drum Parts Washer
2 Results
Seller:
Benchmark Machine Tools
Seller:
Benchmark Machine Tools
Ultrasonic Parts Washers
2 Results
Seller:
Benchmark Machine Tools
Seller:
Benchmark Machine Tools