Originally invented in 1883 by an American engineering company known as Brown and Sharpe, surface grinding machines are abrasive machining systems. It has a metal part that propels a grinding wheel at high speed. While operating, a surface is ground down with each pass.
With a surface grinding machine, you can easily grind workpieces to a high-quality surface finish. The advantages of surface grinding machines are largely due to the magnetic clamping table, which ensures that thin materials can also be ground. These types of machines are therefore suitable for all magnetic materials.
This time around, we will see what these machines are, their types, and how to buy the appropriate surface grinding machine – the options available and the factors to consider.
Components of a Surface Grinder
The main components include the magnetic clamping table and the grinding head attached above the table, which runs evenly in guideways. You can also count the grinding spindle and the cutting tool as well. In addition, coolant is also an essential component of these machines.
Additional components include the work table, Z, Y, Z axis handwheel controls, control unit, splash guard, piece holder tray, and grinding wheel crossfeed lever.
Popular Types of Surface Grinders
When it comes to surface grinding machines, a distinction is made between peripheral grinding machines and face grinding machines.
Wheel-Face or Vertical Spindle Grinders
With wheel-face and vertical spindle grinders, the grinding process is carried out with the face of the grinding wheel. The grinding wheel performs the cutting and feed movements, and the workpiece is finished underneath it. The axis of the grinding spindle is perpendicular to the workpiece surface being processed.
In so-called face grinding, the face of a slip ring or a segmented disk is used for grinding. The cutting movement is carried out by the grinding tool, the lateral feed movement by the workpiece. This can be used, for example, to grind sharp knives for machines.
Peripheral or Horizontal Spindle Grinders
With peripheral and horizontal spindle grinders, the workpiece surfaces are machined with the outer parts of the grinding wheel. The grinding spindle is horizontally oriented, and it can be recognized by straight grinding marks on the surface of the workpiece. The peripheral speed of the grinding wheel is around 35 to 45 m/s.
The grinding spindle is aligned horizontally, and the machine table on which the workpiece is attached moves in a straight line. In most cases, the workpiece is held in place by an electromagnet. The grinding wheel takes care of the lateral feed. For example, indexable inserts made of hard metal can be ground.
Reciprocating Table vs. Rotary Grinding Machines
Depending on the intended use, a distinction is made between machines with a rectangular table and traverses under the grinding wheel (reciprocating surface grinder) and machines with a rotary table (table is circular in shape and rotates under grinding wheel). The workpieces are clamped using magnetic clamping tables or T-slot screws.
The workpiece is clamped on the machine's work table or sucked in and reciprocated longitudinally when using a reciprocating table surface grinder.
The rotary table surface grinder also works with a horizontal spindle, but has a circular electromagnetic chuck. In addition, the surface grinding is done by the grinding wheel itself.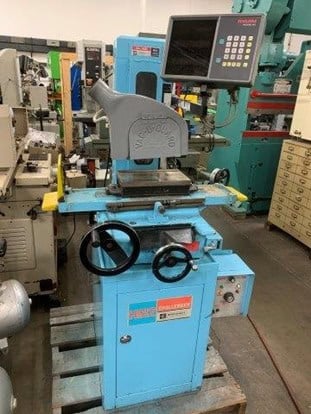 What to Look for When Buying a Surface Grinder
When choosing a surface grinding machine, you need to pay special attention to certain things. First, however, it is important to think about your needs and uses for a surface grinding machine before committing to a final purchase. For example if you need a to grind high precision work such as angular surfaces, grooves, or recesses, you would want to get a horizontal spindle rotary surface grinder, which is the most common in the industry. If you want to grind a flat surface instead of an edge, such as working on stators, rotators, plates, gears, stops and spacers, a vertical spindle surface grinder is a better choice.
Once clear about your needs, the criteria you need to consider when buying a surface grinding machine are:
Grinding length and grinding width
Grinding wheel dimensions
Maximum table load
Weight of the machine
Motor horsepower and rotation per minute
Year of manufacture (depending on the purpose of use, a machine from the 1980s can still provide effective results)
Safety (does the surface grinding machine still meet today's standards?)
New vs. Used Grinders
Often times, many entrepreneurs sell their surface grinders when the depreciation period for the fixed assets has ended, and they buy a new piece of equipment. The machines are, however, still useful and can still provide several years of service. When used properly and cared for over time, a surface grinding machine has an extremely long service life. Therefore, it is possible to get a machine in good condition that has been in use for many years for various purposes.
The purchase price of used grinding machines is much lower than that of a new device. For example, the entry-level prices for models that are already 30 to 40 years old can be as little as a few hundred dollars. But even heavily used models are often available at a fraction of the original purchase price. Newer models today go from $10,000 – $30,000 depending on the size of the machine.
In addition, when purchasing a used surface grinding machine, you can help reduce waste by extending the life of these machines and not forcing additional resources to be used to create a new one.
Applications and Industries
A surface grinder is used to process flat surfaces and to grind the surfaces of workpieces precisely. The process is used in various branches of industry. These include the electrical and electronics industry, the steel and iron industry, and engine construction. In addition, the machine can be used to precisely grind small tools such as electrodes, steel punches, pistons, connecting rods, dies, and punching tools.
The so-called "stick-slip" effect, which occurs when a part starts moving and slides on another, can be avoided through the smooth flowing movement.
Accessories
Various grinding wheels are used for grinding on a surface grinding machine. These differ according to the type of grain (corundum 30A), the grain size (F 46 or coarser), their hardness (E to J), the structure (open structure and high proportion of pores), and the bond (ceramic).
These values ​are ideally suited for surface grinding.
Magnetic chucks
A wheel dresser
A precision grinding vise
A vibe table
V-Blocks
Tips for Finding and Buying a Surface Grinder
When selecting a surface grinding machine, you should consider criteria such as the workspace, grinding length, grinding width, maximum dimensions of the workpieces, connected load, motor speed and power, voltage, maximum table load, measurements, and weight.
When it comes to purchasing, it's always best to use a trusted source. Once you've determined the type of grinder you or your business needs, finding one on Surplus Record is easy! With our newly redesigned website, searching is easier than ever. You can use the search bar in the header of our website to perform a basic search. Simply type in "surface grinder" or narrow it down by either horizontal or vertical spindle.
Manufacturers include Blanchard, Mattison, GMSi Group, Chevalier, Okamoto, Harig, Gallmeyer & Livingston, Kent, and more.
We also work with a variety of dealers who specialize in surface grinders. You can also find dealers in your area or by name who specialize in a variety of grinder types.
Have a Surface Grinder to sell? Sell Your Equipment With Us.