Ironworker machines were invented to speed up production rates and eliminate errors in the fabricating and manufacturing industry. Unlike other machines, like a metal press– that is explicitly named after the job it performs– the ironworker machine name is derived from the tradesmen or "metal worker" who built, or builds, structures using raw materials.
An ironworker machine is a type of machine that can shear, notch, bench, and punch holes in various metal materials. This type of machine is generally used in the fabricating and manufacturing industry; however, the machine does come in all shapes, sizes, and price ranges. In addition, there are smaller, basic models of ironworker machines on the market, meaning there is a machine for any business looking to streamline production and decrease potential human error.
Parts and Components of Ironworker Machines
There are five parts or stations on an ironworker machine.
Angle Station
Bending or cutting
Notching Station
Shearing Station
Punching Station
Each machine is built with safety in mind. Therefore, the area around each station should be made so that operators can stand and work at least 20 feet from each other since that is the standard stock length of most materials used on ironworkers.
Each station is responsible for performing different tasks depending on the job. For example, they can all make U-shaped bars, punch plates, and flat shear plates on the same machine. Ironworker machines are also popular because they can be quickly retooled for various operations and operated by one person.
Popular Types of Ironworker Machines
The most popular type of ironworker machine is the hydraulic ironworker. The standard hydraulic ironworker machine comes equipped with repeatable backing tables in punching, shearing, scoring stations, and adjustable clamps on all five workstations to safely control operations.
The hydraulic ironworker machine is evolutionary in the steel fabrication industry as it can shear flat sheets, round and square bars, punch plates, angles, I-sections, and channels. The machine just needs an electrical source to operate, and it also typically requires one to two operators to oversee production.
The main difference between hydraulic and mechanical ironworker machines is that while, as the name implies, hydraulic systems use hydraulics to generate force, mechanical machines use an electric motor connected to a drive wheel. As a result, hydraulic systems are generally more resistant to wear, while mechanical systems are traditionally used for light gauge steel applications.
Basic models of the ironworker machine use leverage to operate. However, these machines need to be bolted down to a fixed object, and it requires human force to operate the machine so that it can perform its variety of functions.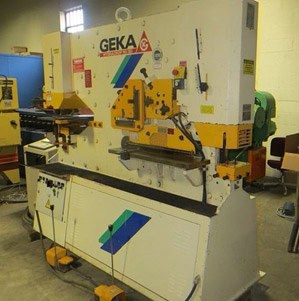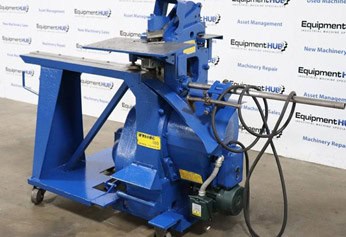 Single Operator vs. Dual Operator
The whole point of investing in an ironworker machine is to speed up workflow. The device offers multiple functions that save time and money in the long run. A single-operator ironworker machine is more commonly found in the field.
A standard, hydraulic, single operator ironworker machine has multiple components, and it uses electricity over manpower to operate. Therefore, only one person is needed to oversee the processes and keep the machine functioning throughout the day.
A dual operator ironworker machine is even better because it is larger and allows two employees to oversee the operations and keep the machine working throughout the day. Quick and efficient, ironworker machines reduce the time and effort needed to complete projects and tasks.
What to look for when buying an Ironworker Machine
There are a few things to keep in mind when purchasing an ironworker machine. For one, it is recommended that you buy ironworkers that meet the safety standards of ANSI B11-5. It is also essential to look for brands that do not imitate or modify the manufacturer's design in any way. Some quality brands to buy are:
These brands are recommended because they offer different types of machines, including twin-cylinder and dual operator styles. Generally, these brands are the best options for buyers because they make high-quality machinery that is; easy to set up, easy to retool, user-friendly, eliminates human error, only needs one operator, increases efficiency, has high safety standards and features, and overall optimizes productivity.
One of the main components of an Ironworker you should consider when trying to choose the right one for the job is the punch tonnage rating. You'll need to know if you need 10 tons or 50 tons, etc. in order to buy the right Ironworker for your job. You also need to determine your shearing capacity of plate, angle or flat bar. Angle Capacities for Length and Width of an Ironworker are measured in inches, and so is the metal thickness capacity. Most steel fabricating shops require ironworkers in the 80 – 120 ton range.
Applications and Industries
You're likely to find ironworker machines being used in most fabrication shops and manufacturing facilities, producing a wide array of items. Each component of the machine has a different purpose. For example, think about building a metal bed frame: almost every part of the building process could be made more accessible using an ironworker machine.
First, you would need to cut your metal frame pieces into the right length. You would do this by using the cutting feature on your ironworker machine. Then you could use the notching or hole punching component to make holes in the metals for screws and so that other pieces of metal could fit into the notches to build the rectangle shape.
If you wanted to build a custom round bed, you could even use the angle component to bend the metal bars and form the round shape. This whole process could take weeks or even months without the help of an ironworker machine.
Accessories
You can fit most ironworker machines with various accessories. Depending on your machine's size, model, and even brand, you can purchase add-ons to meet or change production requirements. Each application or station of your machine can be changed out with a new part to produce a new or different product.
Cutting Station
Angle Station
Notching Station
Shearing Station
Punching Station
You can swap out all these components with a new piece. Essentially, if you don't like the size or shape of your final product, then you can swap out each element with a larger or smaller one to better suit your needs. Some ironworker machines can also be equipped with extra functions such as pipe caps, slot grooving, gauge systems, etc.
Tips for Finding and Buying Ironworker Machines
If you are in the market for a new or used ironworker machine, it's always best to use a trusted source. Once you've determined the type of ironworker you or your business needs, finding one on Surplus Record is easy! You can use the search bar in the header of our website to perform a basic search.
We also work with a variety of dealers who specialize in ironworker machines. You can also find dealers in your area or by name who specialize in ironworkers. Top manufacturers include Scotchman, Piranha, Geka, Edwards and Mubea.
Secure Your Next Ironworker Machine Today!
Surplus Record has always been on a mission to help people sell their surplus and used machinery. For almost 100 years, Surplus Record has remained a champion for machinery dealers across North America, helping thousands of dealers and individual sellers connect with end-user buyers to sell their machinery and equipment.
If you are in the market for any tools or machinery, be sure to check out Surplus Record's extensive database of surplus, new, and used equipment.
Have an Ironworker Machine to sell? Sell Your Equipment With Us.