When it comes to heavy machinery, electric motors are everywhere, and support almost every large machine out there. They are crucial in the industrial world, and without them productivity would come to a halt. They are found in fans, blowers, pumps, elevators, gears, various machine tools, household appliances, and electric cars.
An electrical motor converts electrical energy into mechanical energy. They are highly efficient, don't pollute the air, are typically lightweight, and much cheaper than a combustible engine. Electric motors produce torque which is then used to propel an external mechanism. There are two main types of motors, AC Motors and DC Motors.
AC Motors
The AC electric motor is driven by an alternating current (AC).
The AC motor has two main parts, the stator and rotor. The stator is a 3-coil winding and three-phase AC power input is given to it. The winding passes through slots of the stator which are made by stacking thin highly permeable steel laminations inside a steel or cast-iron frame. When a three-phase current passes through this, a rotating magnetic field is produced. The rotor, which is often called the squirrel cage for its similarity to a hamster wheel cage, is where the electricity is induced. This causes the rotor to turn, which can then be used as torque to power a machine and cause something to turn such as gears.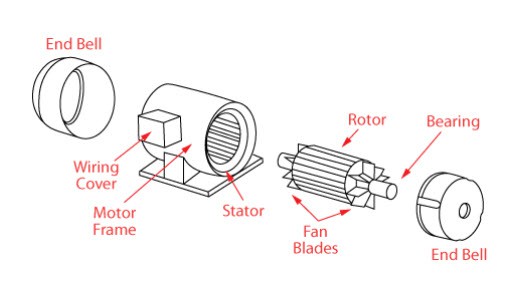 Within the realm of AC Motors you have induction motors and synchronous motors. The induction motor, which is the more common AC motor, relies on a difference in speed between the stator rotating magnetic field and the rotor shaft speed called slip to induce rotor current in the rotor AC winding. Whereas a synchronous motor uses permanent magnets, salient poles or an independently excited rotor winding.
The other parts of the motor help encase it, such as the "Frame" and "End Bell." Or, they help keep it cool such as the "Fan Blades."
DC Motors
The DC motor converts direct current electrical energy into mechanical energy that typically relies on forces produced by magnetic fields. DC power can be generated in a few different ways, the most common way being batteries in which power is generated from a chemical reaction inside of the battery. You can also use a rectifier that converts AC to DC, or an AC Generator equipped with a commutator will produce DC. Most electronics you would find in your house run on DC, such as cell phones, TVs, flashlights, electric toothbrushes, and toys such as remote-control cars. Even large electric cars run on DC.
In a DC Motor, the two main parts are the stator (just like the AC Motor has) and the armature with multiple windings of insulated wire wrapped around a soft iron core that concentrates the magnetic field. The ends of the wire winding are connected to a commutator which allows the armature coil to be energized when turning and connects the rotating coils with the external power supply through brushes. These types of DC Motors are known as Brushed DC Motors. The other main type of a DC Motor is the Brushless DC motor which uses electronics that switch the DC current to each coil on and off and have no brushes. It also uses a permanent magnet as its external rotor.
When to use an AC Motor or DC Motor?
For industrial applications that require constant low-speed torque or precise speed adjustment, DC motors are the clear winner. They have fast response times for starting, stopping, and acceleration. They also have a higher starting torque than AC Motors, but they can spin up so quickly that they burn out. They are usually less maintenance than an AC Motor, and easier to install and more energy efficient.
AC motors are typically used for their high-speed and variable torque, or when you don't need speed control. They are generally more powerful than DC motors due to their higher torque ability. They require low start up power, you can add addons to control speed such as Variable Speed Drive AC Motors (which let you control RPM) or Multi-Speed Drive AC Motors (which let you control RPM & HP), and finally they typically have higher durability than DC and a longer life span.
Popular Industrial Applications for AC & DC Motors
| AC Motors | DC Motors |
| --- | --- |
| Appliances | Warehouse Sorting Equipment |
| Conveyor Systems | Fabrication and Production Units |
| Computers | Vacuums |
| Compressors | Elevators |
| Fans & Air Conditioners | Sewing Machines |
| Hydraulic Pumps | Any machinery with constant power required |
Trying to decide which Motor is best for you? We work with a variety of experts in the Motor world who can tell you what motor you need for your project or machine. 
If you're ready to start searching for Motors, look no further than the #1 Electric Motor Search on the internet, which you can find on Surplus Record! Search through over 12,000+ Motors instantly by HP, RPM, Frame, Volts, Manufacturer and of course, AC/DC.