The history of forage equipment is a testament to the constant innovation and technological progress that have transformed the way we harvest and process fodder for livestock. From the humble beginnings of manual harvesting to the advanced machinery of today, the evolution of forage equipment has not only increased efficiency but also elevated the quality of feed for animals. In this buying guide we'll explore the various types of forage equipment, what to consider when buying this machinery and the various applications of forage equipment within the agriculture industry.
Popular Types of Forage Equipment
Forage equipment has evolved significantly to cater to the diverse needs of modern agriculture. Here are some popular types of forage equipment, each designed to streamline different aspects of the harvesting and processing process:
Self-Propelled Forage Harvester Pickups: These attachments are designed to gather the cut forage, such as corn or grass, and transport it to the processing unit. They enable efficient collection and feeding into the forage harvester, ensuring a continuous flow of material.
Self-Propelled Forage Harvesters: These powerful machines are the heart of modern forage harvesting. They efficiently cut and process various crops like corn, grass, and alfalfa into silage or other forms of feed. Equipped with advanced technology, these harvesters deliver high productivity and consistent quality.
Rotary Harvesting Heads: Rotary harvesting heads are attachments used with forage harvesters. They consist of rotating blades that cut and process the crop, offering versatility for different types of forage.
Hay Mergers: Hay mergers gather and merge cut hay into uniform windows, making it easier for the baler or forage harvester to collect and process. These machines improve efficiency by reducing the need for manual raking.
Flail Chopper: Flail choppers finely chop and shred forage crops, making them suitable for creating haylage, silage, or bedding material. They are often used in dairy and livestock operations.
Hay Forage Mowing Equipment: This category includes a variety of mowers and conditioners that cut and condition the forage before it's gathered for processing. Well-mowed forage improves drying and enhances feed quality.
Each type of forage equipment plays a specific role in the harvesting and processing of crops, contributing to improved efficiency and higher-quality feed for livestock. The selection of equipment depends on factors like the type of forage, farm size, and desired end products.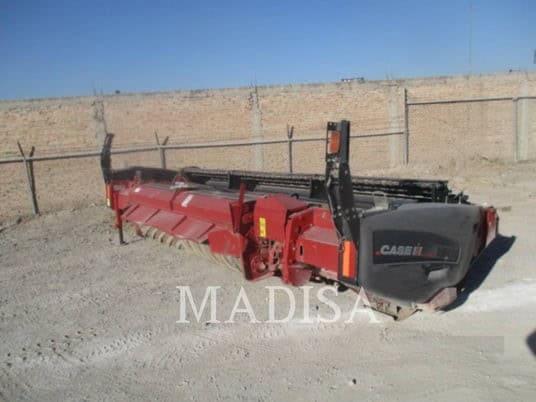 Self-Propelled vs Rotary vs Chopper
Selecting the right forage equipment is crucial to optimizing your harvesting process. When comparing self-propelled, rotary, and flail chopper options, understanding their unique features can guide your decision. Here's a breakdown of the differences:
Self-Propelled Forage Equipment
Function: Self-propelled forage harvesters are comprehensive machines designed to cut, process, and often pack harvested crops. They streamline the entire process, eliminating the need for separate machinery.
Advantages: These machines offer exceptional efficiency, making them ideal for large operations. They provide control over cut length and processing quality, delivering high-capacity silage and feed production.
Usage: Self-propelled harvesters suit farms demanding substantial output and centralized processing of various forage types.
Rotary Forage Equipment
Function: Rotary attachments used with forage harvesters employ rotating blades to cut and process crops. They provide flexibility in cut length and processing, accommodating different forage types.
Advantages: Rotary attachments excel in versatility, making them suitable for varied crops. They often yield a finer chop compared to other methods, contributing to feed quality.
Usage: Rotary attachments are advantageous for operations handling diverse forage types and aiming for consistent processing results.
Flail Chopper Forage Equipment
Function: Flail choppers finely chop and shred forage crops, ideal for creating silage, haylage, and bedding material.
Advantages: These machines offer efficient chopping and shredding, contributing to feed quality and suitability for livestock bedding. They are commonly used in dairy and livestock operations.
Usage: Flail choppers are beneficial for farms requiring finely processed forage for enhanced feed quality or seeking a bedding solution.
What to look for when buying Forage Equipment
Investing in forage equipment requires careful consideration to ensure you acquire the right machinery for your needs. Here are key points to keep in mind during the purchasing process:
Focus on the Features: Prioritize equipment with features aligning with your specific requirements. Consider aspects like cutting mechanisms, processing capabilities, and compatibility with attachments.
Specs Are King: Thoroughly understand the technical specifications of the equipment, including cutting width, capacity, power source, and any advanced technology integrated for enhanced performance.
Know What Similar Machinery Is Selling For: Research prevailing market prices for similar forage equipment. This knowledge provides insight into fair pricing and helps you negotiate effectively.
Research Competitive Brands: Familiarize yourself with reputable brands known for reliability and durable construction. Researching customer reviews and industry recommendations can guide your brand selection.
Assess Condition: Inspect the equipment's overall condition, checking for signs of wear, rust, and damage. Assess the maintenance history and ensure all components are functioning correctly.
Check for Available Attachments: If attachments play a role in your forage processing, verify the availability and compatibility of attachments that match your operational needs.
Assess the Dealer Landscape: Choose a reputable dealer known for transparent transactions, good customer service, and after-sales support. A reliable dealer can provide guidance, service, and spare parts.
By focusing on these factors, you can make an informed and confident purchase of forage equipment that aligns perfectly with your agricultural operations.
Applications for Forage Equipment
Forage equipment plays a pivotal role in modern agriculture, serving various applications that contribute to efficient feed production and livestock management. Here are some key applications where forage equipment proves indispensable:
Silage Production: Forage equipment is crucial in cutting, processing, and compacting crops like corn, grass, and alfalfa to create high-quality silage. This preserved feed is essential for livestock nutrition.
Haylage Preparation: Forage equipment efficiently cuts, conditions, and collects hay crops to create haylage. This process preserves the nutritional value of the forage while ensuring optimal moisture levels.
Bedding Material Creation: Flail choppers and similar equipment finely shred forage crops to create bedding material for livestock. This contributes to animal comfort and hygiene in barns and pens.
Livestock Nutrition Enhancement: Through precise cutting and processing, forage equipment helps create feed with consistent particle size, improving digestibility and nutrient absorption for livestock.
Biogas Feedstock Preparation: Some forage equipment aids in preparing crops for biogas production. Efficient processing of energy crops ensures optimal utilization in renewable energy generation.
Land Management and Conservation: Forage equipment can be used for conservation purposes, managing vegetation in areas prone to wildfires or controlling invasive plant species on rangelands.
Accessories for Forage Equipment
Enhancing the capabilities of your forage equipment can significantly improve its performance and versatility. Here are some essential accessories to consider for optimizing your forage operations:
Crop Attachments: Depending on the type of crop you're harvesting, specialized attachments can enhance efficiency. These can include corn headers for self-propelled forage harvesters or rotary heads for specific crops.
Monitoring Technology: Implement advanced monitoring systems that provide real-time data on yield, moisture levels, and performance. These technologies assist in making informed decisions during harvesting.
Bale Accumulators: Attachments that collect and arrange bales make it easier to manage and transport hay or straw bales. This saves time and minimizes manual labor.
Moisture Sensors: Incorporate moisture sensors to gauge the moisture content of the harvested crop, aiding in determining the optimal time for processing or baling.
Bale Wrappers: If your operation involves baling, consider a bale wrapper attachment that encases bales in protective plastic, preserving their quality for longer periods.
Hydraulic Bale Lifters: These attachments facilitate safe and efficient lifting and transportation of bales, reducing the risk of injuries and streamlining handling processes.
Spreader Attachments: For even distribution of material, spreader attachments can be used to evenly distribute forage or bedding material in barns or fields.
Hay Rakes and Tedders: These attachments help fluff and evenly distribute cut hay, enhancing drying efficiency and preserving hay quality.
Bale Grabs: Designed to handle and transport bales, these attachments simplify bale management and loading processes.
Snow Blower Attachments: In regions with cold climates, snow blower attachments can clear snow-covered forage fields, ensuring timely access for harvest.
Bale Processors: These attachments break down bales into smaller pieces, suitable for feeding livestock or bedding, increasing the bales' utility.
Tips & Tricks 
You won't have much trouble finding a specific type of forage equipment on Surplus Record. At the top of all the pages on our website, you'll see a section called "Browse Categories." Within this section, you can select the "Machinery & Equipment" option, followed by the "Agriculture Equipment" link, and examine the options we have available. 
We also work with a variety of dealers who specialize in forage and agricultural equipment. You can also find dealers in your area or by name who specialize in forage equipment.
Have Forage Equipment to sell? Sell Your Equipment with Us.