Centrifugal compressors are vital components in various industries, offering efficient and reliable cooling capabilities. These compressors operate by utilizing high-speed rotating impellers to increase the pressure and flow of gases or refrigerants. Known for their high capacity and energy efficiency, centrifugal compressors find extensive use in applications such as HVAC systems, industrial processes, and gas turbines. In this buying guide, we will explore the fundamental principles and advantages of centrifugal compressors, shedding light on their role in providing efficient cooling solutions across a range of industries. Join us as we delve into the world of centrifugal compressors and their essential contributions to cooling technology.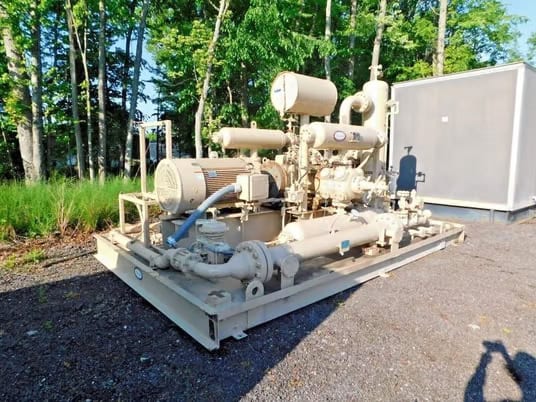 Popular Types of Centrifugal Compressors
Centrifugal compressors come in various configurations, each designed to meet specific requirements and operating conditions. Here are two popular types of centrifugal compressors:
Integrally-geared Compressors: Integrally-geared compressors are characterized by their compact and integrated design, combining multiple compressor stages on a single shaft. These compressors feature a gear system that links the impellers, allowing each stage to rotate at different speeds. This design provides flexibility in adjusting the compression ratio and optimizing efficiency for varying operating conditions. Integrally-geared compressors are known for their high efficiency, wide operating range, and reliability. They are commonly used in applications where precise control and high flow rates are required, such as natural gas processing, petrochemical plants, and industrial refrigeration.
Between-bearing Compressors: Between-bearing compressors, also known as horizontal split compressors, have a design where the impellers are mounted between two bearings on a horizontal shaft. This configuration provides excellent rotor stability, making it suitable for high-speed and high-pressure applications. Between-bearing compressors are often utilized in oil refineries, chemical plants, and power generation facilities. They offer advantages such as compact size, easy maintenance access, and reliable performance in demanding industrial environments.
Integrally-geared vs Between-bearing Compressors
Integrally-geared and between-bearing centrifugal compressors have distinct differences in design and applications. Here's a brief comparison:
Integrally-geared Compressors:
Design: Compact and integrated design with multiple stages on a single shaft.
Flexibility: Allows for adjusting compression ratio and operating at different speeds.
Efficiency: High efficiency across a wide range of conditions.
Applications: Suitable for high flow rates and precise control in gas processing, petrochemical, and industrial refrigeration.
Between-bearing Compressors:
Design: Impellers mounted between two bearings on a horizontal shaft.
Stability: Offers excellent rotor stability for high-speed and high-pressure operations.
Maintenance: Easy access for inspection and servicing.
Applications: Commonly used in oil refineries, chemical plants, and power generation facilities.
Selection depends on factors like capacity, pressure ratios, and specific conditions. Integrally-geared compressors offer flexibility and precise control, while between-bearing compressors excel in stability and high-pressure applications.
What to look for when buying Centrifugal Compressors
When purchasing centrifugal compressors, several key factors should be considered to ensure the selection of the most suitable unit for specific requirements. Here are important aspects to look for when buying centrifugal compressors:
Horizontal vs Vertical Design: Consider the space available and the layout of the installation area. Centrifugal compressors are available in both horizontal and vertical designs. Horizontal compressors have a compact footprint and are suitable for installations with limited vertical space. Vertical compressors are preferred when floor space is limited, as they have a smaller footprint and can be stacked vertically.
Impeller Design: The impeller design plays a crucial role in compressor performance. Look for impellers that are optimized for efficiency, provide stable airflow, and minimize losses. Advanced impeller designs with aerodynamic features can enhance the compressor's efficiency and reduce energy consumption.
Compressor Configuration: Centrifugal compressors can have various configurations, including single-stage, multi-stage, and integrally-geared designs. Evaluate the application requirements to determine the appropriate compressor configuration. Single-stage compressors are suitable for low-pressure applications, while multi-stage compressors are preferred for higher pressures. Integrally-geared compressors offer flexibility in adjusting compression ratios for varying operating conditions.
Cooler Material: Consider the cooler material used in the compressor. Coolers play a vital role in maintaining proper operating temperatures. Common cooler materials include aluminum, copper, and stainless steel. Each material has its advantages and considerations, such as corrosion resistance, thermal conductivity, and cost. Select a cooler material that is suitable for the specific operating conditions and compatible with the working fluid.
Essential Specs: Flow Rate, Capacity, Resistance, & More: Pay attention to essential specifications such as flow rate, capacity, pressure ratios, and system resistance. Flow rate refers to the volume of gas handled by the compressor. Capacity determines the cooling or compression capacity of the unit. Pressure ratios indicate the pressure increase achieved by the compressor. System resistance refers to the pressure drop across the system. Consider these specifications in relation to the application requirements to ensure that the compressor can handle the desired operating conditions effectively.
By considering the design, impeller characteristics, compressor configuration, cooler material, and essential specifications, you can make an informed decision when purchasing centrifugal compressors. It is advisable to consult with manufacturers or industry professionals to obtain guidance and select a compressor that best suits the specific needs and operating conditions of the intended application.
Applications for Centrifugal Compressors
Centrifugal compressors are versatile machines that find application in various industries, providing efficient compression and cooling solutions. Here are some key applications where centrifugal compressors are commonly used:
Oil and Gas Processing and Refining: Centrifugal compressors play a vital role in oil and gas processing facilities, including natural gas pipelines, LNG (liquefied natural gas) plants, and petroleum refineries. They are used for gas boosting, gas gathering, and gas transmission applications. Centrifugal compressors handle the compression and transportation of natural gas, ensuring efficient processing, refining, and distribution of oil and gas products.
Chemical Processing and Transfer: Chemical processing plants utilize centrifugal compressors for various processes, such as compression of process gases, transfer of chemical compounds, and vapor recovery. These compressors provide reliable and efficient compression for chemical reactions, ensuring the safe and efficient production of chemicals, petrochemicals, and pharmaceuticals.
Manufacturing and Production: Centrifugal compressors are employed in manufacturing industries that require compressed air for power tools, control systems, and pneumatic machinery. They are used for applications like material handling, power generation, and assembly line operations. Centrifugal compressors deliver the necessary compressed air, enabling smooth and efficient manufacturing processes across industries such as automotive, aerospace, and consumer goods.
Food and Beverage: Centrifugal compressors are essential in the food and beverage industry for refrigeration and cooling applications. They provide the necessary cooling capacity for food storage, beverage production, and refrigerated transport. Centrifugal compressors help maintain proper temperatures in food processing facilities, ensuring food safety, extending shelf life, and preserving product quality.
Refrigeration and Cooling: Centrifugal compressors play a significant role in refrigeration and cooling systems, such as large-scale commercial and industrial refrigeration, air conditioning, and HVAC applications. They provide efficient and reliable cooling for supermarkets, cold storage facilities, data centers, and other large-scale cooling requirements. Centrifugal compressors offer high capacity and energy-efficient cooling, ensuring optimal temperature control in various settings.
Accessories for Centrifugal Compressors
To optimize performance, reliability, and safety of centrifugal compressors, various accessories are available that complement their operation. These accessories enhance efficiency, protect critical components, and ensure smooth functioning of the compressor. Here are key accessories commonly used with centrifugal compressors:
Seals and Gaskets: Seals and gaskets are essential accessories that prevent leakage of gases or fluids within the compressor. They help maintain the integrity of the compression process and prevent unwanted loss of compressed air or refrigerants. Properly installed seals and gaskets ensure efficient operation and reduce the risk of contamination or system damage.
Rotors: Rotors are crucial components in centrifugal compressors. They are responsible for accelerating the gas or fluid and converting kinetic energy into pressure. Accessories related to rotors include balancing equipment, rotor blades, and rotor coatings. These accessories ensure proper alignment, balance, and durability of the rotor assembly, resulting in smooth operation and improved efficiency.
Diffusers and Filters: Diffusers and filters are accessories that optimize the airflow and protect the compressor internals. Diffusers allow for the controlled expansion of compressed gases, converting velocity energy into pressure energy. Filters remove contaminants, such as dirt, debris, and particulates, from the intake air, ensuring clean airflow and preventing potential damage to the compressor. Properly designed and maintained diffusers and filters contribute to the efficient and reliable operation of the centrifugal compressor.
Casing: The compressor casing is an important accessory that encloses the compressor internals and provides structural support. It helps maintain proper alignment of components, reduces vibration, and protects against external elements. Casing accessories may include vibration monitoring systems, temperature sensors, and insulation materials. These accessories enhance the safety, reliability, and performance of the centrifugal compressor.
Tips & Tricks
You won't have much trouble finding a specific type of centrifugal compressor on Surplus Record. At the top of all the pages on our website, you'll see a search bar. Type the phrase "centrifugal compressors" into it, click on the category that drops down, and examine the options we have available.
We also work with a variety of dealers who specialize in centrifugal compressors. You can also find dealers in your area or by name who specialize in centrifugal compressors.
Have a Centrifugal Compressors to Sell? Sell Your Equipment with Us.