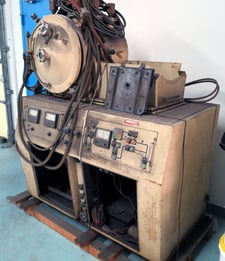 Furnace Brokers International
| Tolland, CT
Seller:
Furnace Brokers International
MANUFACTURER:, LINDBERG, TYPE:, VACUUM FURNACE, SIZE I.D.:, 6"W x 15"L x 6"H, SIZE O.D.:, 5'W x 4'L x 6'H, MODEL:, MULTIVAC MKII, SERIAL NUMBER:, 21399, MAXIMUM TEMP.:, 3000 F
...more
TNT Industrial
| Orange, CA
Find many great new & used options and get the best deals for TOP LOADING LINDBERG VACUUM FURNACE 1700 DEGREE MODEL 22GR-3830 HEAT TREATING. Free shipping for many products!.
Get email updates for newly added Vacuum Furnaces