For Sale by
EcReCon Inc.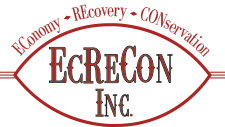 Surplus Record Dealer Since 2017
Description
Description:
used PECO Dust Collector with Hopper. Bin Vent/Filter Receiver rated 4 PSI. 300 Cu.Ft. Hopper. Hopper is 7'6" dia. x 6' T/T with 5'8" cone bottom. Top mounted dust collector adds another 7'8" to height. Dust collectors are 384 Sq.Ft. (108) 5.5" x 44" lgth Cage with bag type.
FT2: 384
Type: Pulse Jet
Material: 304 Stainless Steel
ACFM:
Manufacturer: PECO
Model: 64-06-300 Cu.Ft.
Serial:
Quantity: 2
Submit Inquiry to EcReCon Inc.