For Sale by
Adams Machinery Co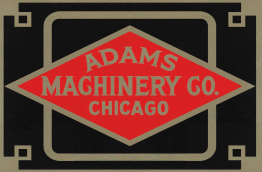 Surplus Record Dealer Since 1924
Description
SPECIFICATIONS
Working Surface of Table10" x 42"
Overall Size of Table16" x 48"
Spindle Nose Separation (Min / Max)4" / 24"
Height of Spindle Center Above Table (Min / Max)4.5" / 16.5"
Maximum Longitudinal Offset of Heads12 inches
Maximum Cutting Stroke37 inches
Taper in SpindleNo.50 NST
Spindle Hole Diameter1 inches
Spindle Speed Range100 - 1740 RPM
Table Feed, Infinitely Variable0 - 480 RPM
Saddle Traverse (Maximum)3 inches
Saddle Traverse Rate0 - 60 IPM
Vertical Travel of Knee (Programmable)4.625 inches
Knee Traverse Rate0 - 60 IPM
Knee Travel Rate12"
Approximate Weight11000 pounds
.** Subject to Verification **
EQUIPPED WITH
Allen Bradley MicroLogix PLC Controls with Panelview 700 Color HMI Programmable Servo Control of Table Feed. (2) Knee Feed Cross Slide (Y) Axis feed of RH Knee. LH and RH Spindle Speeds. Lubrication System. Currently configured with Position Loader/Unloader with Pneumatic Work Fixtures. Twin Auger Chip Conveyors. Spindle Extension. Full work Enclosure. Motor Driven with (2) 10 HP, 1200 RPM, 3 phase, 60 cycle AC Servo VFD Spindle Drive motors and controls. 1.3 HP DC Table Feed. AC Servo Elevating Motors. AC Servo Saddle Feed Servo Drive Motor.
This machine is offered cleaned, cycled and guaranteed with a 30 day return privilege. It can be inspected under power at your convenience.
Submit Inquiry to Adams Machinery Co