For Sale by
Adams Machinery Co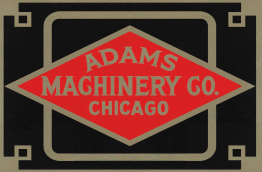 Surplus Record Dealer Since 1924
Description
SPECIFICATIONS
Table Size21.7" x 13.8"
Maximum Load on Table (Uniform Load)176 lbs x 2
X-Axis Travel17.7 inches
Y-Axis Travel12.6 inches
Z-Axis Travel16.1 inches
No. of Tool Positions26
Maximum Spindle Speed16,000 RPM
Spindle TaperBT-30
Tool Change Time (Chip to Chip)2.2 seconds
Rapid Traverse Rate (X,Y,Z)1968 IPM
Spindle Drive10.3 / 7.1 HP
Maximum Tool Diameter4.92 inches
Maximum Tool Length7.9 inches
Maximum Tool Weight7.7 pounds
Table Top to Spindle Nose7.9" - 24"
Approximate Weight7700 pounds
EQUIPPED WITH
Brother CNC-A00 Control (Conversational or G-Code). (2) 21.7" x 13.8" pallets with 180° Indexing Pallet Changer. 26-Position Side Mounted Automatic Tool Changer. Manual Pulse Generator. Manuals and Drawings.
The Brother is being offered cleaned, cycled and with a 30-Day Return Privilege.
Submit Inquiry to Adams Machinery Co