For Sale by
Adams Machinery Co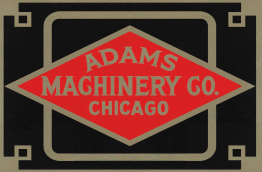 Surplus Record Dealer Since 1924
Description
SPECIFICATIONS
Capacity8 tons
Stroke12 inches
Daylight16 inches
Throat7.5 inches
Size of Bed12" x 18"
Cylinder Bore3.25 inches
Ram Diameter2.25 inches
Ram Speeds, Closing415 IPM
Ram Speeds, Pressing136 IPM
Ram Speeds, Return363 IPM
EQUIPPED WITH
Motor driven with 7.5 HP, 3 phase, 60 cycle, 460 volt AC Pump Drive. Electrical Control Cabinet. Allen-Bradley MicroLogix 1000 PLC Control. Dual Touch Button Controls. Handwheel Inching Control. Inch/Cycle Selector. Pushbutton Gauge Valve. Pressure Gauge with Conversion Plate. 12" x 18" Bolster Plate.
Cleaned, Cycled, and Guaranteed.
Submit Inquiry to Adams Machinery Co