For Sale by
Frank Bacon Machinery Sales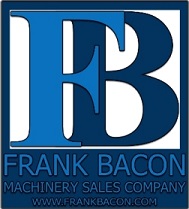 Surplus Record Dealer Since 1956
Description
5K (25kN) Tinius Olsen Series 5000
Reconditioned 5,000 lbf (25kN) Capacity Tinius Olsen, Series 5000, Electro-Mechanical Tension and Compression Testing Machine.
Tinius Olsen Series 5000
SPECIFICATIONS:
Tension Testing Opening (Less Tooling): 40"
Compression Testing Opening (Less Tooling): 40"
Distance Between Columns/Screws: 16.25"
Testing Stroke: 40"
Table Size (W x D): 8" x 16.25"
Testing Speed (IPM): .02 to 20 to 5,000 lbs
Crosshead Adjusting Speed (IPM): 20
Approximate Overall Dimensions:
Load Frame (W x D x H): 33" x 20" x 65"
Approximate Weight (lbs.): 500
Voltage: 120V, 60Hz, 1Ph
EQUIPPED WITH:
3-Channel eP2 Microprocessor/Digital Indicator (Load, Position & Strain)
GaugeSafe Live Software for Live Graphical Display, Data Acquisition & Management
High Resolution TTL Compatible Incremental Quadrature Encoder for Position and Testing Speed Values with Signal Cable and Mounting Hardware.
Precision Pressure Transducer for Load Values with Signal Cable
5K Tension & Compression Load Cell
FOB Warren, MI
Reconditioned/Retrofitted & Certified
1 Year Parts and Labor Warranty
*Representative Image
Submit Inquiry to Frank Bacon Machinery Sales
"*" indicates required fields