For Sale by
Furnaces, Ovens & Baths, Inc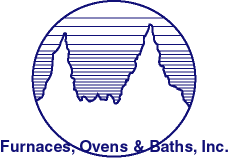 Surplus Record Dealer Since 1980
Description
Item 7637

Manufacturer:
Lindberg
Category:
Box Furnace
Type:
Sinterall Retort Furnace
Heated:
Electric
Model Number:
Sinterall 11SCMT-151812-21A
Serial Number:
999014
Max. Temperature:
2100°F
Voltage:
230V/3 Phase/50/60 Cycles/79 kW
Work Area:
15"W x 12"H x 18"L
External Dimensions:
60"W x 58"L x 76"H
Controls:
Controls are mounted in an enclosure attached to the right hand side of the furnace. There is a Yokogawa digital programmable control, an Athena digital high limit and a Yokogawa 4" wide strip chart recorder. A 14 point diagnostics panel monitors and indicates any problems during the heating cycle. Three flowmeters for Nitrogen Purge, Nitrogen Blend and Process Hydrogen. Pressure gauges for N2, H2 and Retort. SCR phase power indicating lights and main power disconnect circuit breaker. Selector switch operates the stack heater.
Description:
Single door mounted on double acting hinge system. Door seals against a silicon rubber gasket with water cooling. Five manual clamps secure door to retort, pneumatic cylinder is prevents door from being opened during process. Retort is fabricated from Inconel 601 alloy and is equipped with atmosphere inlet and outlet ports and T/C port. Exhaust port has a dual element igniter to burn off Hydrogen exhaust. Heated vertical exhaust stack is fully insulated minimizing binder condensation. Furnace is lined with "moldatherm" vacuum formed ceramic fiber insulation. 12 silicon carbide heating elements, 6 over and under the retort provide uniform heating. Cooling blower provides positive airflow between heat chamber and retort.
Condition:
Very Good
Availability:
Immediate
FOB:
Detroit, MI.
Submit Inquiry to Furnaces, Ovens & Baths, Inc
"*" indicates required fields