Woodstock Power Co
PO Box 2796
Bala Cynwyd, PA 19004-0740
Silver Level Dealer
Surplus Record Dealer Since 2017
Contact
About
Woodstock Power, based out of Philadelphia, is committed to providing electrical power solutions to a range of customers. We deal with quality and affordable electrical systems ranging from: generators, UPS Systems, PDUs, breakers, transformers, and more. Previous customers have commented on our speedy deliver, product reliability, and intimate customer service.

Our extensive equipment inventory includes a wide assortment of used industrial natural gas and diesel generators and other power equipment from respected manufacturers such as Caterpillar, Kohler and Trane, to name just a few. All used industrial generator sets have been thoroughly tested and are in peak working condition. When you purchase used industrial power generators from Woodstock Power, you can get as much as 70 percent off the original selling price, making them an extremely affordable alternative to purchasing brand-new equipment.

When you buy industrial generators and engines from Woodstock Power, you get a turnkey power solution that will ship to your facility immediately with no lead time. We also partner with top power equipment experts around the country who can assist you with installation, power consumption planning and more.

Woodstock Power also pays top dollar for good working equipment. We pay 100-percent upfront for used diesel and gas industrial power generators ranging from 25kW to 2500kW. And you dont have to worry about shipping your generator to us. Well arrange convenient pickup at your facility. Whats more, our close relationships with companies across the U.S. enables us to provide additional turnkey services for sellers such as decommissioning data centers, site preparation and complete gutting of facilities.
Products & Services
Appraisers, Electrical & Power Equipment
Generators
Rebuilding/Retrofitting
Switches
Associations & Affiliations
Natural Gas Or Dual Fuel Generators
1 Result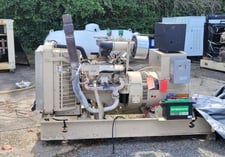 Woodstock Power Co
| Bala Cynwyd, PA
| Roy Reuveni |
Seller:
Woodstock Power Co
Location:
Bala Cynwyd, PA