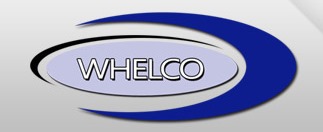 Whelco Industrial Ltd
28210 Cedar Park Blvd
Perrysburg, OH 43551-4865
Surplus Record Dealer Since 2019
Contact
Jonah Carter
419-873-6575
About
Whelco Industrial has decades of experience as a full-service industrial motor repair center. Whelco was formally known as Whitney Electric with decades of experience under previous ownership. In 2002 Whelcos present management purchased the assets of Whitney Electric to form the current entity whose goal is to form long-term partnerships to meet the motor and mechanical repair needs of all its customers.

When your motor or equipment is down and you are incurring expensive downtime having an experienced and quick responding partner in your corner makes all the difference. The average Whelco employee has been with us 11 years, but typically has years and even decades of experience before they join our team. The benefit to you is a fast, reliable and experienced team of professionals solving your problem now.

We like to think of ourselves as being in partnership with our customers. Our trusted partnership provides customers asset and motor management programs. This program offers you predictive, preventative and corrective maintenance solutions to help our clients minimize their problems and machine downtime. Our program helps you stay ahead of problems and keep from losing money when a machine goes down. We also offer Internet based technologies to keep you informed and involved. We invite you to experience the Whelco difference today.
Products & Services
Motors, A.C.
Motors, D.C.
Transformers
Associations & Affiliations

60 Hz Wound Rotor (slip ring-rotor) Motors
2 Results
Seller:
Whelco Industrial Ltd
Seller:
Whelco Industrial Ltd
DC Motors Electrical, 475-900 Volts
3 Results
Seller:
Whelco Industrial Ltd
Seller:
Whelco Industrial Ltd
Seller:
Whelco Industrial Ltd
Squirrel Cage AC Electric Motor
1 Result
Seller:
Whelco Industrial Ltd
Variable Speed Motors (Adjustable Speed)
1 Result
Seller:
Whelco Industrial Ltd