Volunteer Equipment & Supply
PO Box 52505
Knoxville, TN 37950-2505
Platinum Level Dealer
Surplus Record Dealer Since 1989
About
Volunteer Equipment and Supply is Headquartered in Knoxville, Tennessee. We specialize in the Buying and Selling of New Surplus and Used Equipment.

Volunteer Equipment & Supply: We strive to provide excellent customer service, while adding value and saving time and money for our customers by offering a competitive option to buying new without the hassle of long leadtimes.

We offer most leading National Brands.





Products & Services
Bus Duct/Plugs
Cranes & Equipment
Motor Controls, Starters & MCC's
Transformers
Associations & Affiliations
60 Hz Single Phase Transformers
1 Result
Seller:
Volunteer Equipment & Supply
Seller:
Volunteer Equipment & Supply
Chain Hoists, Monorail and Trolley Cranes
1 Result
Seller:
Volunteer Equipment & Supply
Insulated Case and Molded Case Circuit Breakers
4 Results
Seller:
Volunteer Equipment & Supply
Seller:
Volunteer Equipment & Supply
Seller:
Volunteer Equipment & Supply
Seller:
Volunteer Equipment & Supply
Motor Control Centers
7 Results
Seller:
Volunteer Equipment & Supply
Seller:
Volunteer Equipment & Supply
Seller:
Volunteer Equipment & Supply
Seller:
Volunteer Equipment & Supply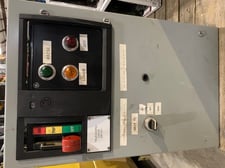 Seller:
Volunteer Equipment & Supply
Model:
E9000 EVOLUTION SERIES
Seller:
Volunteer Equipment & Supply
Seller:
Volunteer Equipment & Supply
Overhead-Bridge Cranes
6 Results
Seller:
Volunteer Equipment & Supply
Seller:
Volunteer Equipment & Supply
Seller:
Volunteer Equipment & Supply
Seller:
Volunteer Equipment & Supply
Seller:
Volunteer Equipment & Supply
Seller:
Volunteer Equipment & Supply
Voltage Starters - Reduced, Solid State, Frequency Drive
7 Results
Seller:
Volunteer Equipment & Supply
Seller:
Volunteer Equipment & Supply
Seller:
Volunteer Equipment & Supply
Seller:
Volunteer Equipment & Supply
Seller:
Volunteer Equipment & Supply
Seller:
Volunteer Equipment & Supply
Seller:
Volunteer Equipment & Supply