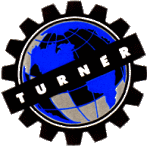 Turner Industries Inc
4670 36th St. SE
Grand Rapids, MI 49512-1997
Platinum Level Dealer
Surplus Record Dealer Since 1957
Contact
David Hietikko
616-949-3461
About
Turner Industries, since 1957, is an international machinery dealer, specializing in quality late model presses, fabrication & machine tools both manual & CNC including a large inventory of surface grinders. Inspect machines, under power, in our heated 20,000 square foot warehouse.

Turner Industries Inc. is a Surplus Record Gold Level Dealer:

1. Stocking dealers with real inventories they own or control.
2. Have met Surplus Record's standards for ethical dealings with their customers since 1957.
3. Have been visited in-person by Surplus Record staff every year.
4. Enjoy over 60 years listing with Surplus Record without unresolved complaint or incident.
Products & Services
Brakes, Press
Coil Handling/Processing Equipment
Drills
Fabricating Machinery
Grinders, Cylindrical & Internal
Grinders, Surface
Lathes
Presses
Rollformers
Saws
Shears
Associations & Affiliations