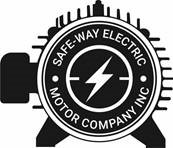 Safe-Way Electric Motor Co.
PO Box 72797
Providence, RI 02907-0797
Platinum Level Dealer
Surplus Record Dealer Since 1974
Contact
Phil / Sales
800-669-9189
401-272-7530
About
Safe-Way Electric has a big inventory of energy-efficient electric motors, transformers, variable speed drives and much more. We are also specializing in hard to find items. You satisfaction is guaranteed.
Products & Services
Drives AC & DC
Gear Reducers
Motor Controls, Starters & MCC's
Motors, A.C.
Motors, D.C.
Rebuilding/Retrofitting
Transformers
Associations & Affiliations