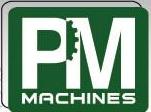 PM Machines
5451 Commercial Dr
Huntington Beach, CA 92649
Gold Level Dealer
Surplus Record Dealer Since 2005
Contact
S. Mataviesko
714-892-9003
About
PM Machines buys and sells a large selection of top of the line Pre-Owned machinery for purchase, including CNC, metalworking, stamping and fabricating machinery.

PM Machines is a Surplus Record Gold Level Dealer:

1. Stocking dealers with real inventories they own or control.
2. Have met Surplus Record's standards for ethical dealings with their customers since 2005.
3. Have been visited in-person by Surplus Record staff every year.
4. Nearly 15 years listing inventory with Surplus Record without unresolved complaint or incident.




Products & Services
CNC Machinery
Lathes
Lathes, CNC
Machining Centers, CNC
Milling Machinery
Plastic Equipment
Shears
Tooling & Accessories
Associations & Affiliations