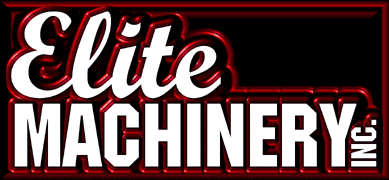 Elite Machinery Inc
PO Box 173
Caledonia, WI 53108-0173
Gold Level Dealer
Surplus Record Dealer Since 2005
Contact
Neal Kruszka
262-878-9494
About
Elite Machinery Inc. is a stocking used equipment and industrial machinery dealer specializing in buying and selling the highest quality used CNC lasers, press brakes and turret punch presses. We also handle other types of CNC metalworking machines. Our brands of focus include Amada, Accurpress, Bystronic, Cincinnati, Mazak, Mitsubishi and Trumpf.

With more than 30 years of experience in the precision fabrication industry, we have the expertise to simplify the buying and selling process. We believe in becoming your partner throughout the entire sales process and beyond. Our goal is to become your resource whether youre buying or selling used machinery, need valuations of your current equipment, or even if you need a consultant to help you decide if you need any of the above. We build long-term relationships and many of our long-time customers call us with questions regarding equipment, even when theyre not looking to buy or sell a used machine, and were always happy to help.

Elite Machinery is located in Wisconsin putting us in the heart of the industrial Midwest. This central location is ideal to easily ship machines coast to coast and our warehouse is in close proximity to overseas packaging should you need assistance in shipping machines anywhere in the world.
Products & Services
Brakes, Press
CNC Machinery
Lasers
Lathes, CNC
Associations & Affiliations
Seller:
Elite Machinery Inc
Amada MP1225 NJ Load/Unload. MFG: 1999.
Hardware Inserting Presses
1 Result
Seller:
Elite Machinery Inc
Haeger Hardware Insertion press, Model 2015WT-2H.
Hydraulic Press Brakes
1 Result
Seller:
Elite Machinery Inc
The Accurpress Advantage model 725012 is a 250 ton x 12′ version of Accurpress's popular rocker-arm press brake.
...more
Power Squaring Shears (Inch)
3 Results
Seller:
Elite Machinery Inc
Seller:
Elite Machinery Inc
1/4" X 10' Amada M3060 Power Squaring Shear W/ Programmable Back Gauge & 112" Squaring Arm. Mfg: 1990.
Seller:
Elite Machinery Inc
5/8" X 12' Cincinnati 5F112 Hydraulic Shear.