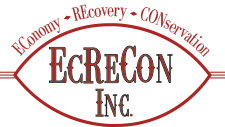 EcReCon Inc.
46 Pennsgrove Pedericktown Rd
Pedericktown, NJ 08067-3503
Surplus Record Dealer Since 2017
About
In Business Since 1985. EcReCon, Inc. buys and sells used and surplus chemical, pharmaceutical, cosmetics, food, petrochemical, refining and plastics processing equipment and complete Plants. Deal sizes range from Complete Plants, including land, to Individual Pieces. Our inventory includes tanks, vessels, reactors, mixers, blenders, heat exchangers, dryers, mills, pumps, columns, compressors, dust collectors, blowers, centrifuges and much more. We have over 20 acres of process equipment.

EcReCon is your Single Source for dismantling, re-erection and appraisals. Click here to see our Dismantling / Demolition Equipment. We maintain our own cranes, excavators, fork trucks, bobcats and trucks to keep your costs down. EcReCon has access to a large number of surplus plants in the chemical, pharmaceutical, food processing, plastics, petrochemical, power, refining and pollution abatement industries. EcReCon has proven itself as a leader in complete Plant dismantling and Relocation. We have completed several projects both domestically and internationally.

Call EcReCon, Inc. for all your used and surplus chemical process equipment, surplus pharmaceutical process equipment, surplus plastics process equipment, surplus petrochemical process equipment and surplus food process equipment needs.
Products & Services
Appraisers, Machinery & Equipment
Chemical, Petroleum & Gas Processing Equipment
Dryers
Food Processing Equipment
Heat Exchangers
Plant Liquidations
Pulverizers & Hammermills
Tanks