Cashman Power Solutions
3300 Saint Rose Pkwy
Henderson, NV 89052
Gold Level Dealer
Surplus Record Dealer Since 2009
Contact
Brett Lambeth
775-332-2454
About
Cashman Equipment Company is one of the highest rated Caterpillar construction equipment dealers in North America.
Associations & Affiliations
Portable Air Compressors
4 Results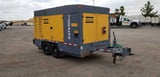 Cashman Power Solutions
| Henderson, NV
| Brett Lambeth |
Seller:
Cashman Power Solutions
Atlas Copco. Model Information XATS950CD6. Year 2011. Price $85,000. Serial Number APP151482. Hours 2803. Fuel Type Diesel. House # 11-184.
Cashman Power Solutions
| Henderson, NV
| Brett Lambeth |
Seller:
Cashman Power Solutions
Cashman Power Solutions
| Henderson, NV
| Brett Lambeth |
Seller:
Cashman Power Solutions
Cashman Power Solutions
| Henderson, NV
| Brett Lambeth |
Seller:
Cashman Power Solutions