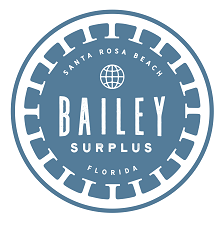 Bailey Surplus
430 Botany Blvd
Santa Rosa, FL 32459
Platinum Level Dealer
Surplus Record Dealer Since 2003
About
Bailey Surplus, has been in business for over 30 years. They specialize in buying and selling electric motors for some of the most demanding applications world wide.

Bailey Surplus is a Surplus Record Gold Level Dealer:

1. Stocking dealers with real inventories they own or control.
2. Have met Surplus Record's standards for ethical dealings with their customers since 2003.
3. Have been visited in-person by Surplus Record staff every year.
4. Enjoy more than 30 years listing with Surplus Record without unresolved complaint or incident.
Products & Services
Drives AC & DC
Gear Reducers
Motors, A.C.
Motors, D.C.
Associations & Affiliations