AMTAC Corp
2800 West 21st St
Erie, PA 16506-2970
Platinum Level Dealer
Surplus Record Dealer Since 1995
About
AMTAC Corp. is a sales and engineering company providing large computer controlled metalworking machine tools to manufacturing companies and sophisticated process equipment users worldwide.
Products & Services
Boring Mills, Horz. & Vert.
CNC Machinery
Lathes
Lathes, CNC
Machining Centers, CNC
Milling Machinery
Planers/Planer Mills
Tooling & Accessories
Associations & Affiliations
High Speed and Automatic Presses
1 Result
Straight Side Double Crank (Single Action) Press Machines
3 Results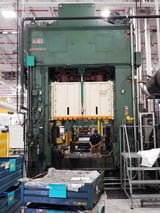 600 Ton, Bliss SE600-42-48, 16" stroke, 33-1/2" SH, 42" x 48" bed, 12 SPM, cushions.