92,813 Machinery & Electrical Equipment listings as of 06/22/2021
Advertise your inventory and connect with end users
Featured Auctions & Liquidations
ENDS 6/22/21
Thompson Auctioneers, Inc.
Canal Fulton, OH
Live Online Auction of TEK Group International By Order of Secured Creditors – Late Model CNC and Compression Molding Facility featuring over 750 Lots!
ENDS 6/22/21
SMC Auctions
Decatur, IL
Online Auction of Illinois Machine Shop. Featuring Forklifts, Engine lathes Radial arm drills, vertical turret lathe, King vertical lathe, CNC vertical machining center, Horizontal Boring Mill, mills, air compressors, drill bit sharpeners, welders, saws, and more!
ENDS 7/21/21
Integra Asset Solutions
Russelville, TN
Mazak, Makino and Brother Turning & Machining Centers, Induction, Melt and Refurb Furnaces, Robots, CMMs, Spare Parts & More
Wanted or For Sale
Let our network of dealers find the machine you need or turn your idle assets into cash.
Listings Just Added
Machinery & Equipment
Mohawk Machinery Inc
Cincinnati, OH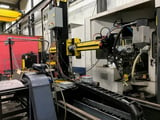 Poliquin Machinery Inc
Auburn, ME
Prestige Equipment Corp
Melville, NY
Electrical & Power
Abraham Generator Sales Co
Cooperstown, ND
Ring Power Systems
St. Augustine, FL
High To Low Voltage
Commerce City, CO
Industry News
Inflation and Politics: The Role of the Federal Reserve To understand the Q2 2021 inflationary environment — ...
Read more